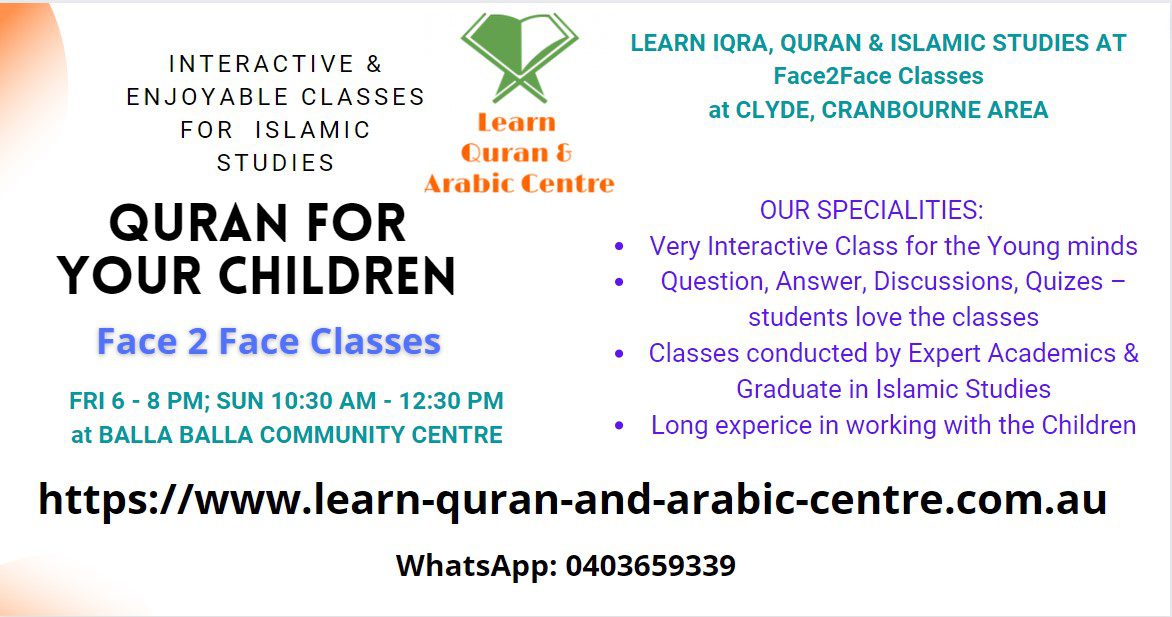 Learn Quran Online
by our Melbourne & Sydney-based teachers / tutors. Enrolments are open for Iqra / Quran Tajweed and Arabic face-to-face (on-site) tutoring. Online Quran / Arabic classes (Quran Tajweed for kids) are conducted across Australia. Our teachers are Aleem / Aleema with extensive Academic teaching experience with children/adults. A small group of students for the best learning, taught by Female & Male Scholars. We teach Iqra Tajweed (Reading Quran with proper pronunciation), Islamic Studies for Kids, Iqra Online, Online Quran classes for adults, Quranic Arabic Online, Quranic Grammar, and Quran Memorisation (to be a huffaz). We support Reverts or Converts (New Muslims), school children, or youth of any age by teaching Quran & Islamic education.
Online quran classes reviews:
Our Motto:
# Be Proud of being a Muslim
# We focus solely on Quran teaching and to make the students becoming Productive Australian Muslims. We believe in Unity of the Muslims, Tolerance, Harmony in the Society, Self-development and Self-purifications. We do not promote any sect or divisions in the Muslim community.
Small group size for effective learning.
52 WEEKS Course Plan (Islamic Studies)
– Selected speeches From Youth Voices 2021 conducted by our Students of Learn Quran and Arabic Centre:
Which mode of study you prefer?
Curriculum / Selected Resources
Rules & Regulations
Within our high-demand Islamic Studies course, a short books-lists that we teach our students are showcased below. Learn Quran and Arabic Centre's motto is to build a generation of productive Australian Muslims.
Frequently Asked Questions (FAQ)
"Indeed each of you is a shepherd and each of you will be questioned regarding his flock. …The man is responsible over the inhabitants of his house and he is the one who will be questioned about them." (Bukhari & Muslim)
Please check out Quranic and ahadith references regarding the Importance of Reciting the Quran with contemplation and a slow, measured recital here.  Do you want to learn more about Tajweed Quran? Or, how about Arabic and Quran classes to gain a deeper meaning of our beautiful religion and the Holy Quran? Check out the New Enrollment Page to contact Learn Quran and Arabic Centre.
Please fill up the following online Form. A representative will contact you shortly Insha Allah.