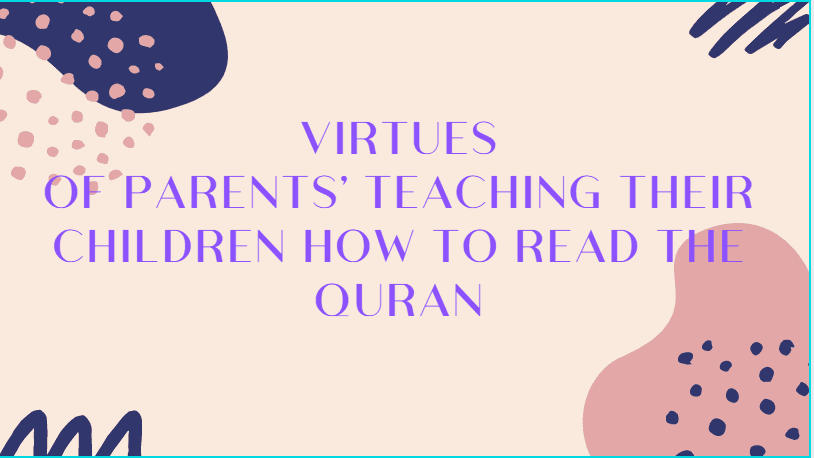 We should have our children love the Qur'an before we start to teach it to them; we must use examples of how important the Qur'an is to the life of a Muslim. Qur'anic education starts with teaching how to read it. But before this, children should love the Qur'an, and the foundation of this love should be laid by the family. Children who see their parents reading the Qur'an want to learn to read it too.
Prophet (pbuh) reminds us of the divine rewards the teaching of the Qur'an will bring to parents. In one of his hadiths the Prophet (pbuh) says,
"All the sins – whether they be of the past or future – of the person who teaches his/her child how to read the Qur'an will be pardoned. Whoever teaches his/her child to recite the Qur'an will be raised up by Allah on the Day of Judgment shining like the full moon. His/her child will be asked to read.' For every verse the child reads, Allah will raise the level of the parent until the child reaches the final verse that he/she can recite".
(Majma' al-Zawa'id, 7, 165,166).
In a hadith, which tells how the Qur'an will intercede in the hereafter, the Prophet (pbuh) describes the situation as follows:
"The parents of those who read the Qur'an will be clad with two outfits whose value cannot be apprised in worldly terms. They will ask, Why have we been given this clothing?' They will be told, because your child read the Qur'an and practiced it.
(Darimi, Fada'il al-Qur'an, 15).
 "The parents of whoever reads the Qur'an and acts upon what is in it will be crowned on the day of Judgment, the light of which will be greater than the light of the sun if it were to be contained in a worldly house, therefore, what do you think the reward of the person would be who (actually) acts upon it? (meaning the reward of the child)
(Abu Dawud, Witr, 14).
"Allah puts in paradise he who reads and practices the Qur'an. The Qur'an will intercede for ten members of his family who are destined for Hell"
(Ibn Maja, 16).
Enrol your children / yourself to Learn Quran!
https://www.learn-quran-and-arabic-centre.com.au/wp-content/uploads/2020/12/virtues-of-parents-teaching-children-how-to-read-quran.png
458
814
Dr Manzur Ashraf
https://www.learn-quran-and-arabic-centre.com.au//wp-content/uploads/2020/12/cropped-Logo-LQAC.png
Dr Manzur Ashraf
2020-12-15 05:01:09
2021-11-14 23:01:22
THE VIRTUES OF PARENTS' TEACHING THEIR CHILDREN HOW TO READ THE QURAN