EID MUBARAK . You're cordially invited for EID UL ADHA PRAYER at Balla Balla Community Centre, HALL 1,
7 – 9 Selandra Blvd, Clyde North,
on WEDNESDAY 28th June, 8:00 AM Inshallah
Please JOIN with FAMILIES.
May the Eid brings shower of joy in your lives.
— organised by WISDOM INSTITUTE (Learn Quran & Arabic Centre)
For Newcomers: Contact Dr Manzur Ashraf (0403659339).
Address: Dowling Way Clyde North.

Inquiry: 0403659339 (By Message only please)

Jumma Khutbah 1:30 PM all the year round (Heart-soothing English Khutbah inshaAllah, useful for future generation). Prayer mode: Sunni (Hanafi).

Iqama 1:45 PM

Sisters Praying facilities present – please Message beforehand if sisters want to join.

People from Cranbourne, Clyde, Clyde North, Narre Warren, Berwick, Officer, Narre Warren & Pakenham area can request attend Jumma. Taraweeh (8 Rakah) here by contacting the Centre (Messaging: 0403659339).
Eid Mubarak! Eid ul Adha prayer at Balla Balla community Centre, Melbourne, Australia
With Our Guardians, Students, well wishers, loveable hearts …. irrespective of nationality …
"And brought together their hearts. If you had spent all that is in the earth, you could not have brought their hearts together; but Allāh brought them together." (Anfal)
Eid Khutbah: "Our Role model: The Beloved Prophet (sallallahu alaihi wasallam) & Stars (companions) in his orbits".
Organized by Wisdom Institute
Some Khutbahs are as follows:

Sept 3, 2021: What are we leaving behind?
Aug 27, 2021:
Aug 20, 2021:
July 23, 2021: Al-Shafi – The Healer (Reflection from the Beautiful Names of Allah) during the time of COVID-19
July 20, 2021: EID PRAYER, KHUTBAH & DUA:
Topic: How should Muslims deal with difficult times

June 25, 2021: Prophetic quality: Integrity; trend of western and eastern leaders, how can we achieve integrity and trustworthiness that will improve our career in this world and level of Imaan
June 5, 2021: THE ECLIPSE SIGN
• Many people seek glory and admiration feel content with people's linking natural phenomenon to themselves!
• A man came to the Prophet (s.a.w) and started trembling. The Prophet said, "Take it easy, man. I'm not a king. I'm the son of a woman who used to eat shredded bread." -Ibn Majah, Al Hakim.
• Many people impose barriers between people and them claiming a high status attributing to themselves.
• If People, specially those of knowledge and scholarships, try to be close to others, they will be more influential, and closer to the tradition of Prophet, who was happy to be a simple servant.
Feb 12, 2021: How to delvelop a Productive Australian Muslim Generation (Khutbah)

Some Jumma Khutbahs in article formats: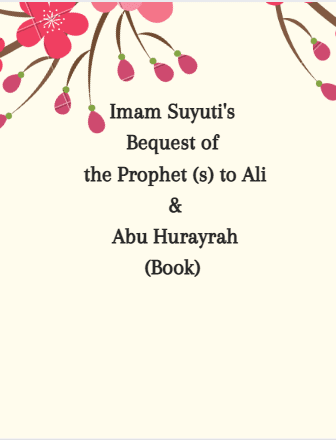 August 8, 2022
Bequest of the Prophet (PBUH) Main: Risalatu Imam As-Suyuti Author: Jalal al-Din al-Suyuti (1445–1505 CE) Translation: Manzur Ashraf
Read More
Jan 1, 2021: Gems of Sura Maryam
Dec 25, 2020:
Tafsir of Ayatul Qursi:

1. "Sirah (Life of Prophet) is a love story" (Jumma Khutbah, Oct 2, 2020): "For the first time in his life, Safwan stopped to look into the Prophet's eyes. "I bear witness", he wept…
Safwan was an insider who spent 20 years evading the Prophet, while Salman Al Farsi was an outsider who waited 20 years to find the Prophet. Regardless of the path they took, the moment they opened their hearts to the prophet, their lives were dramatically chnaged!
Can you try to unlock the secret to this relationship? You'll realize eventually the Sirah is a love story. It is about taking your heart and making it bigger. The bigger it gets, the more it gives..
And if we learn anything from Safwan's story – it's never too late to start"

2. Extraordinary Love for the Prophet (SW) (Oct 30, 2020):

3. Who was that old man? (oct 9, 2020):
"On a dark and quiet night, the leaders of the Mushrikun of Qurayesh has decided to gather in a place … to figure out what to do with the Prophet (pbuh)…
.. As the guard was shutting the door, an old Man, unknown to everyone stuck his hand in the doorway…
.. On that night, they left with the intention to kill the Prophet (pbuh)…
Who was that old man?"
4. Bangla khutbah:
তিনিই আমার রব (পর্ব-১৩) : আল-কারিব তথা নিকটবর্তী (শেষ পর্ব)
আল্লাহ- আপনি সেই সত্তা যাকে ডাকা হলে বা যার কাছে সাহায্য চাওয়া হলে পাওয়া যায়।
অনুগ্রহ ও হেদায়াতের ছোঁয়ায় আপনার নৈকট্য আমাদের অর্জন করতে দিন।
এ নৈকট্যে যেন আপনার সাথে একান্ত আলাপনে লিপ্ত হতে পারি;
হৃদয় থেকে সব অপরিচ্ছন্নতা দূর করতে পারি আর এরই মাধ্যমে জান্নাতে প্রবেশ করতে পারি।

5. জুম্মা খুৎবাহ: তিনিই আমার রব: আল-কারিব তথা নিকটবর্তী
আপনি কি একাকিত্ব অনুভব করছেন? আপনার আত্মা কি এমন প্রিয়জনকে খুঁজছেন যার কাছে মনের সব দু:খ-ব্যথা সবকিছু খুলে বলতে চায়?
যদি এমন প্রিয়জনকে ডাকেন, এমন বন্ধুকে আহবান করেন আর এমন সত্তার দিকে ছুটে চলেন – যিনি নৈকট্য অর্জনে ইচ্ছুকদের কখনোই ফিরিয়ে দেন না?

OTHER KHUTBAHS ARE FOUND AT: https://www.facebook.com/Learn-Quran-Centre-Jumma-Khutbah-Lecture-113556120403340