Service areas: Auckland, New Plymouth, Wellington, Nelson, Canterbury, and Otago.
Small group size for effective learning
Female and male scholars who are enthusiastic in teaching the Quran with proper Tajweed and beautiful recitations.
In a Zoom session, there are only a few pupils each group. Weekly, there are two 45-minute interactive and enjoyable classes for both kids and adults.
Students with similar levels of progress were grouped together to ensure group progress.
Meticulous attention to each student's increased learning by providing extra care as well as advanced (or special need) care to whomever was required.
Teachers are either female or male academics (Aleem/Aleema) with extensive academic teaching experience and expertise in working with children, or Huffaz.
52 WEEKS Course Plan (Islamic Studies)
Our Online Teachers are from Melbourne & Sydney. Our Online Quran Classes for Sydney, Auburn, Lakemba, Greenacre, Guildford, Punchbowl, Arncliffe, Chullora, Condell park, Chester Hill, Ashcroft, Wiley Park, Bankstown, Yagoona, Prestons, REgents Park, Bass Hill, Granville, Lurnea, Fairfield, Ashcroft, Regents Park,  Mount Druitt, Berala, Roselands, Newcastle, Wollongong, Penrith, Gosford, Albury, Maitland, Shellharbour, Coffs Harbour, Wagga Wagga, Tweed Heads, Port Macquarie, Taree, Blacktown, Tamworth.
Looking courses for your school kids? They have finished basic Quran tajweed but you want to continue her Islamic studies with tafsir of Quran, Duas, etc? Then Enrol for our Islamic studies course tailored to develop Productive Australian Muslims.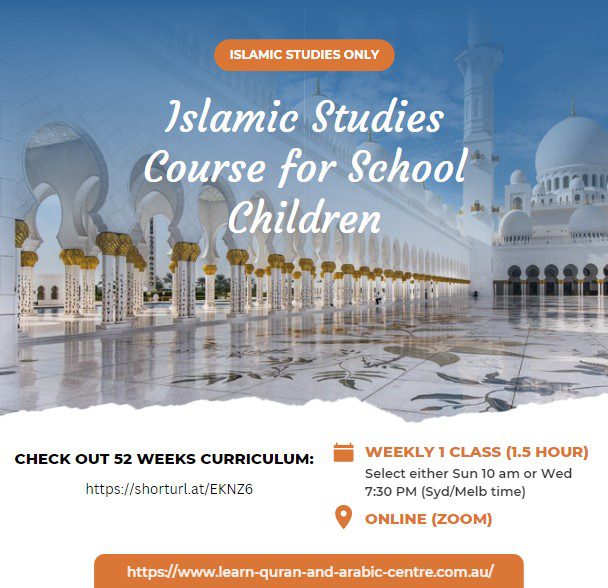 Within our high-demand Islamic Studies course, a short books-lists that we teach our students are showcased below. Learn Quran & Arabic Centre's motto is to build a generation of productive Australian Muslims.
Online quran classes reviews:
Fill Up the Form Please. A representative will contact you shortly Insha Allah.